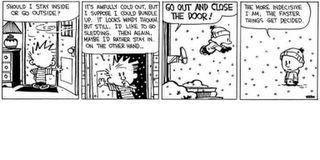 Click on Picture to see clearer....

Calvin and hobbes is not just yet another cartoon, there is more to it
that what meets the eye....I could relate to this one..as i am particularly
indecisive...
Time and tide, nor do people wait for us to decide, so we better make up
our mind... and do it fast too....
The above cartoon is driving home the point that if we delay our decisions
due to indecisiveness, then some one else or destiny may come in .........
Decisions are dependant on two things if you ask me:
1. Trust on one's own sense of judgement
2. Proirity
Sometimes, we feel that this is the right thing to do, some might call it listening
to one's own heart, and we go ahead and do it.
Else we have a priority, like if my mom is sick and i have booked tickets for a movie,there is certainly no doubt that i will not go for the movie.Why? Because I have Prioritised here.
So ,when then do we become indecisive, when our heart doesn't just tell us what to do..or in my case, i really doubt my sense of judgement....so am never able to decide based on what my heart says..them Mr.Conscience comes into play making the situation more complex... Life can become complex when we begin to think.....
Second thing is prioritising..on larger things, i can prioritise..but on smaller things,i just cant....Let me demonstrate, I go to the cafeteria, i take a minute to decide if it is going to be coffee or milk......not an earth shattering decision, you know, but a time consuming one. And when the gravity of the situation is greater, it gets worser......hmmm....
So what is the point , you ask...i just wanted to rant about how indecisive i can be